REGISTER INTEREST
HOW TO STYLE YOUR LENNOX APARTMENT LIKE A PRO: 9 TOP INTERIOR DESIGN TIPS FROM STYLIST ADAM DE LAUNAY
BACK TO NEWS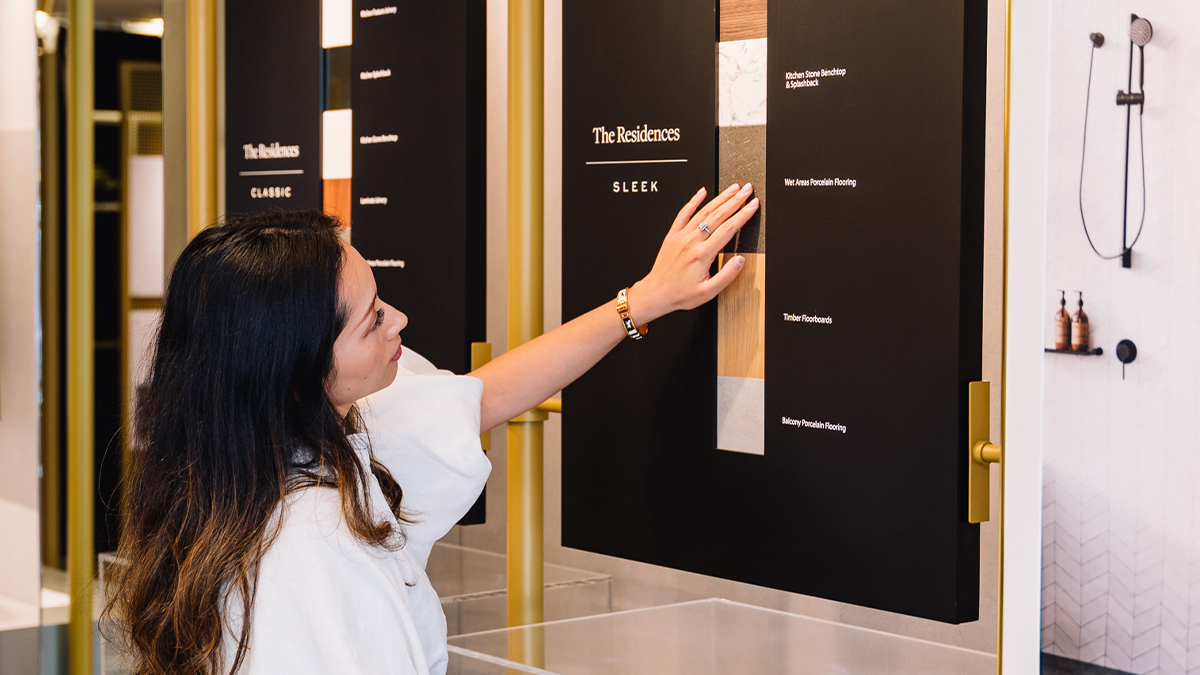 Wallpaper, paint, accessories, artwork - styling your brand-new apartment is exciting. But it can be hard to know where to start. Unless you are a pro and know exactly where all things should go. Step forward Lennox display apartment stylist Adam de Launay, to help solve all your new apartment decorating dilemmas.
Director of De Launay Design studio in Surry Hills, Adam's stunning, signature spaces have featured in film, television, theatre and as backdrops to high-end events. We asked Adam for his nine best tips on how you can transform your blank canvas apartment into an interior work of art that suits you and your lifestyle.
Whether you're a fan of Insta-worthy luxe, cosy corner nooks or relaxing retreat style, read on for his expert advice that can be applied to apartments of all sizes.
1. Get in the zone
Before you bring in all your furniture and start putting things in place, it is really important to think about how you will use that space, what your needs are in that particular space and how you can service those needs in a practical yet beautiful way. Think of each area as a separate zone, with its own furniture plan. Successful zoning is crucial!
2. Don't fill every space
One of the biggest mistakes people make when they furnish and style an apartment is squeezing in too much furniture, over-sized pieces and decorative items. Not every empty area needs an object! Allow spaces to breathe. The movement and flow around your apartment should feel effortless and smooth.
3. Choose a hero piece
Choose a piece in your space which acts as the 'hero' piece. This may be a statement floor rug, sofa, artwork or sculpture. The hero should jump out at us and the pieces surrounding this hero should contrast or complement. In one of the Lennox display apartments for instance, we have a teal velvet sofa that works in harmony with all the other objects around it, like the accessories, the artwork and so on.
4. Material selection matters
In apartment living it is important to be conscious of light and the feeling of spaciousness. Using glass tabletops is an underrated way to create instant space but use glass sparingly as too much can feel clinical. Have your dining table glass for instance, and your coffee table in marble or stone, to preserve the sense of warmth. Fabrics have a big effect, too. Materials such as velvet add tactile luxury which fits in beautifully in a high-end premium development like the Lennox.
5. Invest in storage
Storage is key. A clever storage solution from the very beginning will start off your apartment in the best way. Remember that clutter distracts our eye, so the less on display the better. Keep it behind a closed door!
6. Keep calm with colour
Colour is very personal. If you absolutely LOVE a colour, do not be afraid to use it. However, use less than you think you should. There is a subtle art to retrained and beautiful styling. Choose your hero colour and then connect it lightly through other pieces in the space. Try to stick to one hero and lightly contrast with other colours. If you are unsure, keep the larger ticket pieces very neutral and add colour through soft furnishings. These can be swapped out easily if trends change, or you want a lift.
7. Think of your indoor when planning outdoor
Because the Lennox apartments have an effortless flow indoor to out, when you are styling your balcony you do also need to consider what is happening in the space right inside. So, for instance, if it is the living/lounge that is next to your balcony, outdoor dining is best. If your dining zone is next to the balcony, you should create a living/relaxation area outside, as two dining zones side by side will feel repetitive and forced. And of course, don't forget potted plants of the living variety. These will always add freshness and life to a balcony.
8. Choose a scheme that suits your style
One of the best features of the Lennox is the flexibility of the interior design and the options that you can choose for your interior scheme. For buyers that want a homely, warm and comfortable space it works perfectly. The same can be said if you prefer a sleek and modern style. The finish of all the Lennox apartments is stunning. High quality and premium. Personally, I love a sleek space and minimalist approach with punches of colour.
9. Get expert help if you need it
If you find yourself feeling overwhelmed, think of the entire apartment as one collage, with all pieces fitting a jigsaw puzzle. Try not to become too focused with one piece, create a mood board and put all the pieces you love and trust together. And if you are still struggling, get a professional in from the beginning - they can really help!
See Adam de Launay's inspirational luxury interiors at the Lennox display apartment as follows.

308 Church Street, Parramatta NSW 2150
Opening time:
Monday - Thursday 12pm - 5pm
Saturday 10am - 4pm
Friday & Sunday - By appointment only
GET DIRECTIONS

BOOK APPOINTMENT
For latest apartment availability and prices, call 1800 998 519.
BACK TO NEWS
Now Selling. Enquire Now
Sales and Dislay Centre
308 Church Street, Parramatta NSW 2150
Interested in learning more about The Lennox?
Secure your private appointment below, or contact 1800 998 519.
CONTACT US