REGISTER INTEREST
FIRST-TIME BUYERS GUIDE: HOW TO SECURE AN APARTMENT AT THE LENNOX
BACK TO NEWS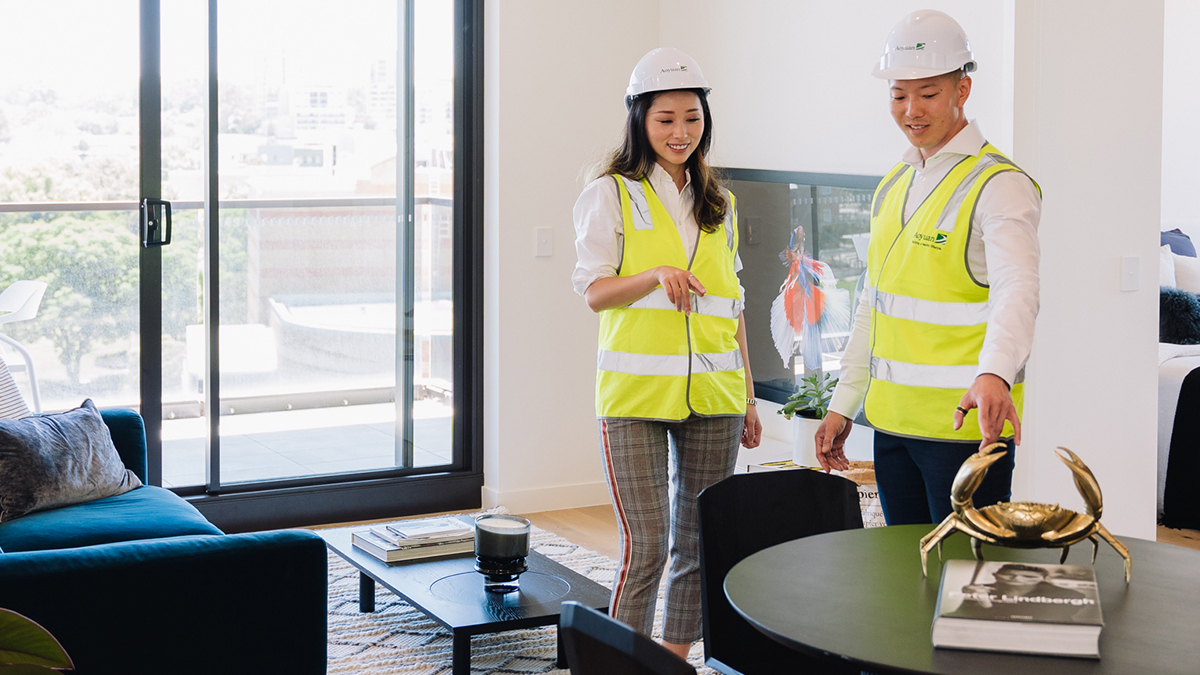 Did you know that the Lennox has been said to be one of the most appealing developments for first-time buyers? The real estate agent says would-be homeowners 'love the location…right among the cafes, restaurants, bars and nightlife.'
Brand new high-rise living is popular with first homeowners for lots of reasons, including lifestyle, facilities - and finance. That is because there are first-time buyer schemes which you may be eligible for – check the NSW Government website here for full terms and conditions.
At the Lennox, prices range between $630,000 - $750,000 for a 1-bed apartment, $785,000 - $1.19M for a 2-bed apartment and 3-bedroom residences $1.12M – $2.125M. With the option to put down a five per cent deposit - and the fact that if you buy now off-the-plan you have plenty of time to arrange finance - you can see why the Lennox and its unrivalled riverside lifestyle is so high on first-time buyer wish lists.
If you want to make the Lennox your first step on the property ladder, here's a useful overview guide to how you can secure your own dream residence, covering what's involved from initial enquiry to key handover.
If you have any questions at all about the first-time buyer process, we're always happy to help. Just call us on 1800 998 519 or email our Sales Consultant Jason Leong: jason.leong@aoyuangroup.com
Step 1: Initial appointment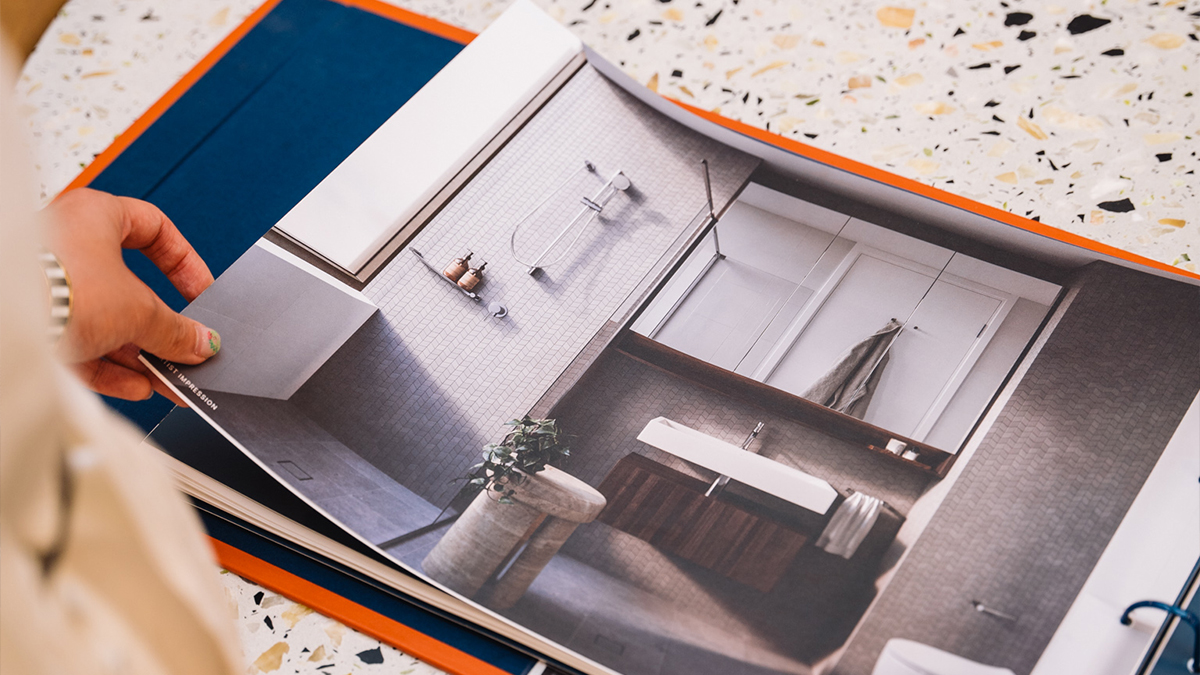 Come and meet our friendly and knowledgeable Sales Consultant at The Lennox display suite, which is located at 308 Church Street, Parramatta. It's open Monday to Thursday 12-5pm and 10-4pm Saturday. Call 1800 998 519 to make a no-obligation one-to-one appointment.
Before you attend your appointment, it's a good idea to seek independent financial advice for your particular circumstances, to ascertain your borrowing power. You'll need to know how much you can spend on your new apartment, your level of deposit and also any first-time buyer schemes that may be available to you.
By having a clear understanding of your finances, you can confidently commit to your preferred Lennox residence as soon as you find the right one.
Step 2: Appointment Q&As: What to expect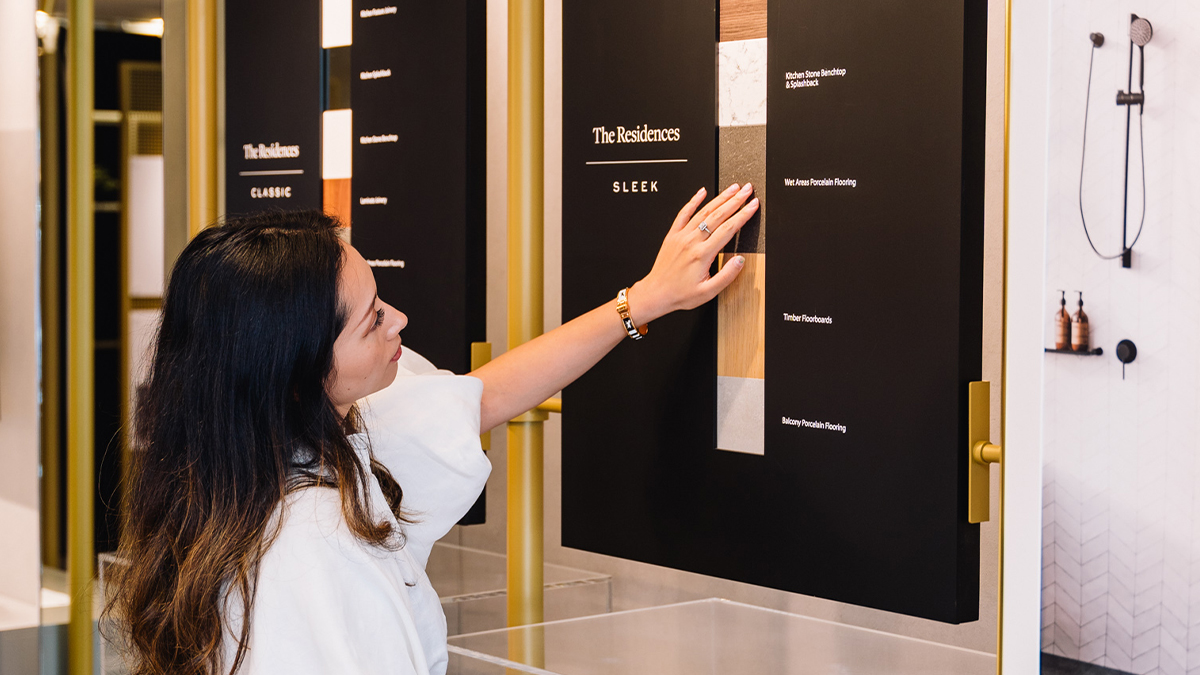 Your appointment is your chance to learn everything about the Lennox, the styles of the apartments, the finishes and the facilities. It's an exciting time – but we know it can also be overwhelming! We'll make it simple and easy for you to understand the process, clearly explaining what's involved and answering any questions you have, so you can proceed with confidence.
Many first-time buyers like to know about:
- The world-class amenities and facilities at the Lennox
- Which Lennox apartment and residence types are available
- Which apartments suit their budget/lifestyle
- The finishes, build quality and features they can expect in their apartment
- We will provide an overview and general information in relation to the standard financial obligations under a contract for sale.
You'll also be able to view our prototype apartment – which will give you a good idea of what your future home will look like.
Step 3: Choose your apartment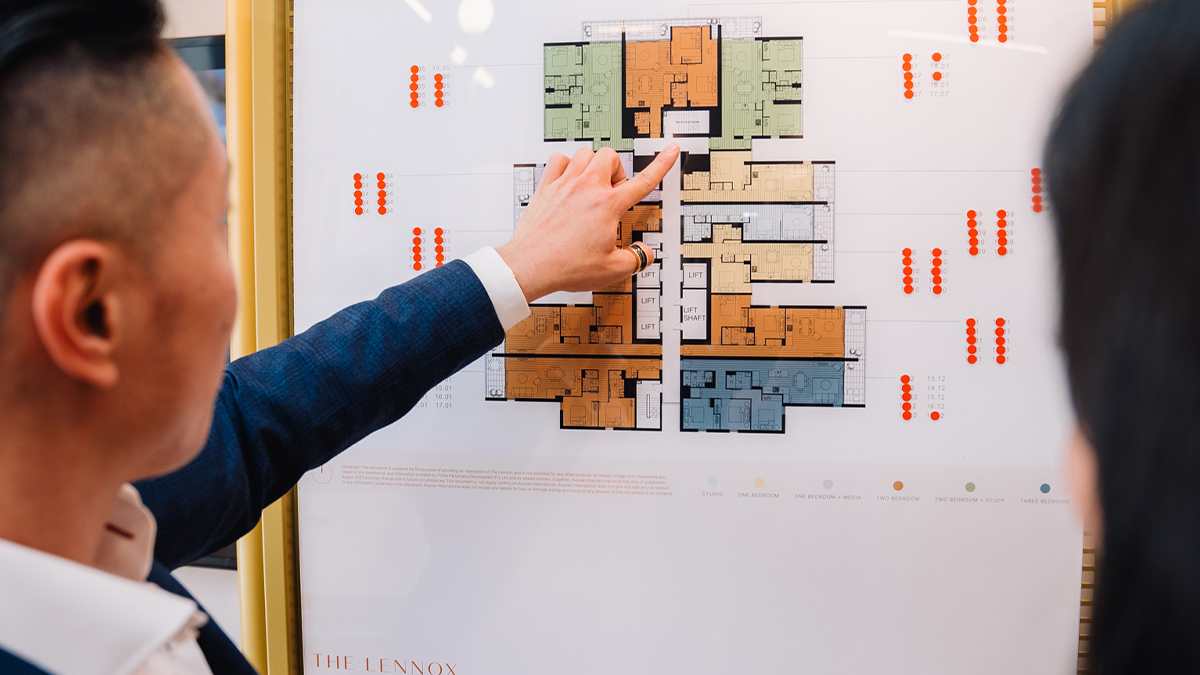 Now it's time for one of the best parts of the process - choosing your apartment! It's important to get this completely right, so we'll help you to determine which apartment style is right for you and guide you through the key decisions you need to make. You'll want to consider things like:
- How many bedrooms you require now and may need in the future?
- How much living space suits your lifestyle and entertaining needs?
- Which type of layout you prefer?
- Any facilities or amenities you would like to be near?
- Which direction you want your apartment to face –all our apartments are designed to maximise natural light and views
You won't be put under any pressure to make a quick decision. This is your first home and it's essential that you're completely happy. Do take the time to consider your available apartment options and talk to us if you need clarification or have any questions.
Step 4: Reserve your residence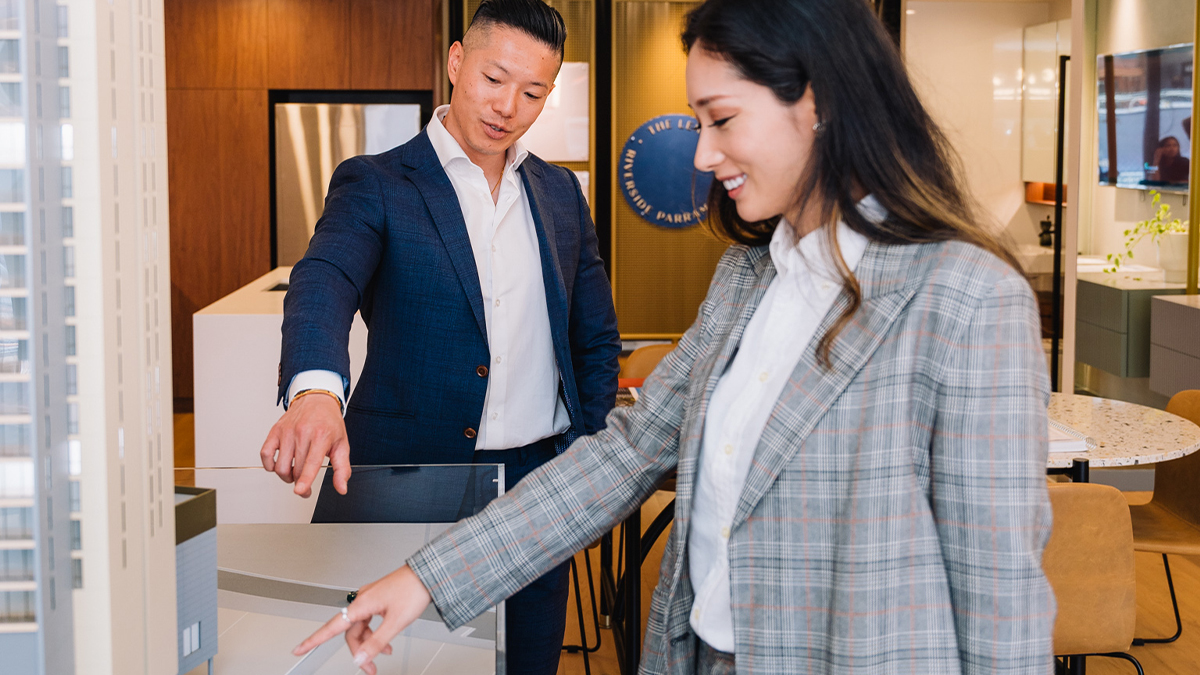 So you've found 'The One'? Now it's time to put down your $5,000 reservation deposit. This refundable deposit simply secures your chosen Lennox residence – which means it can't be sold to anyone else - for five working days, giving your Solicitor/Conveyancer time to review the Contract of Sale.
To arrange your reservation deposit, we'll need your photo ID and the details of your Solicitor/Conveyancer.
Step 5: Sign & Exchange
Before you sign the Contract of Sale, you will need to obtain independent legal advice to understand your legal obligations. Once you're happy with the Contract of Sale, it's time to make it official by signing the Contract. You also now need to pay the balance of the deposit. Congratulations! Your new Lennox residence is almost yours. You'll be given details of our Client Relations team, who will take care of you from this point forward.
Step 6: Developer Updates & Settlement Date
As the development build progresses, you will be contacted by our Client Relations team with regular updates as key milestones in the construction process are reached. As construction nears completion, we will give you an estimated date of settlement, which is when all remaining funds are transferred to the developer and you get the keys to your new apartment! At this point you'll also need to arrange your finances, so everything is in order and ready to go on the settlement date. All the specific details of the settlement process are explained in your Contract of Sale. Your Solicitor/conveyancer will be able to guide you through this process. We will also send out a notice of the settlement date to your solicitor / conveyancer, outlining the procedures that we have in place to make the settlement and key handover process easier.
Step 7: Pre-settlement inspection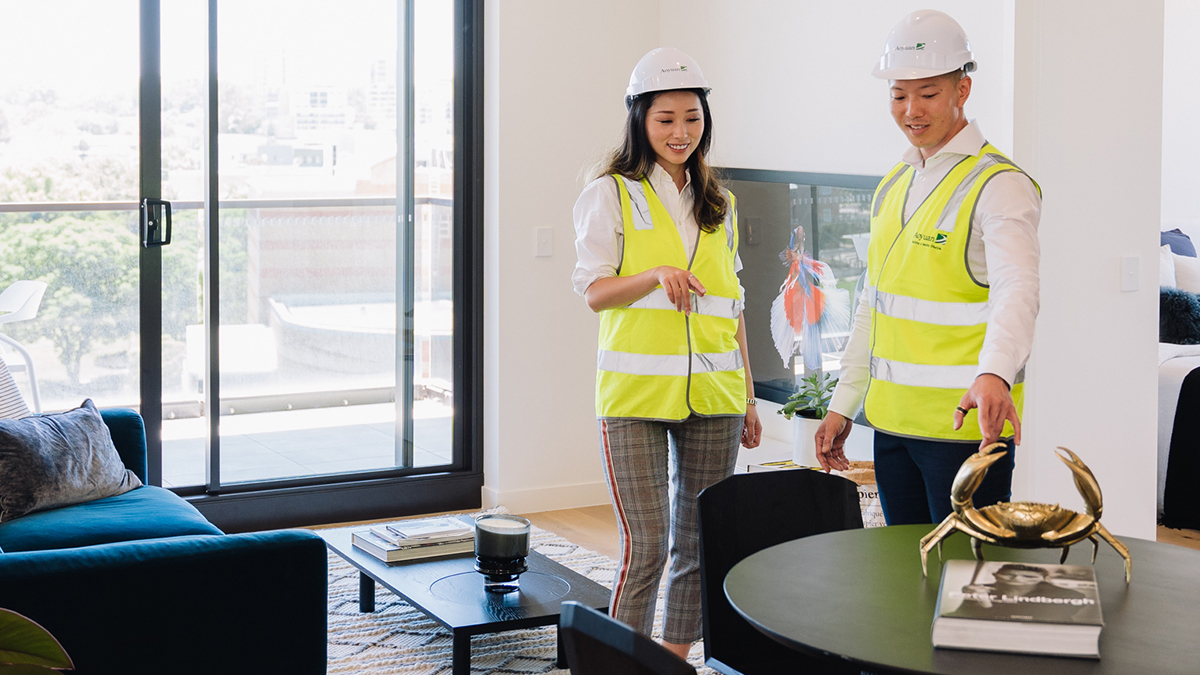 Around one month before the settlement date, you'll be shown around your brand-new apartment for a pre-settlement inspection. A pre-settlement inspection is a walkthrough of your apartment and its features, giving you the chance to have a good look around, check fixtures and fittings and measure up for your furniture. You also have a 90-day post-settlement liability period to report any defects, which will be resolved by the builders at no cost.
If required due to your financial circumstances, you may need to notify your lender to arrange a bank valuation. This is needed to determine the loan-to-value ratio, or 'LTV', for your mortgage application. An unconditional approval from your lender will also be required at this stage.
Step 8: Settlement & Keys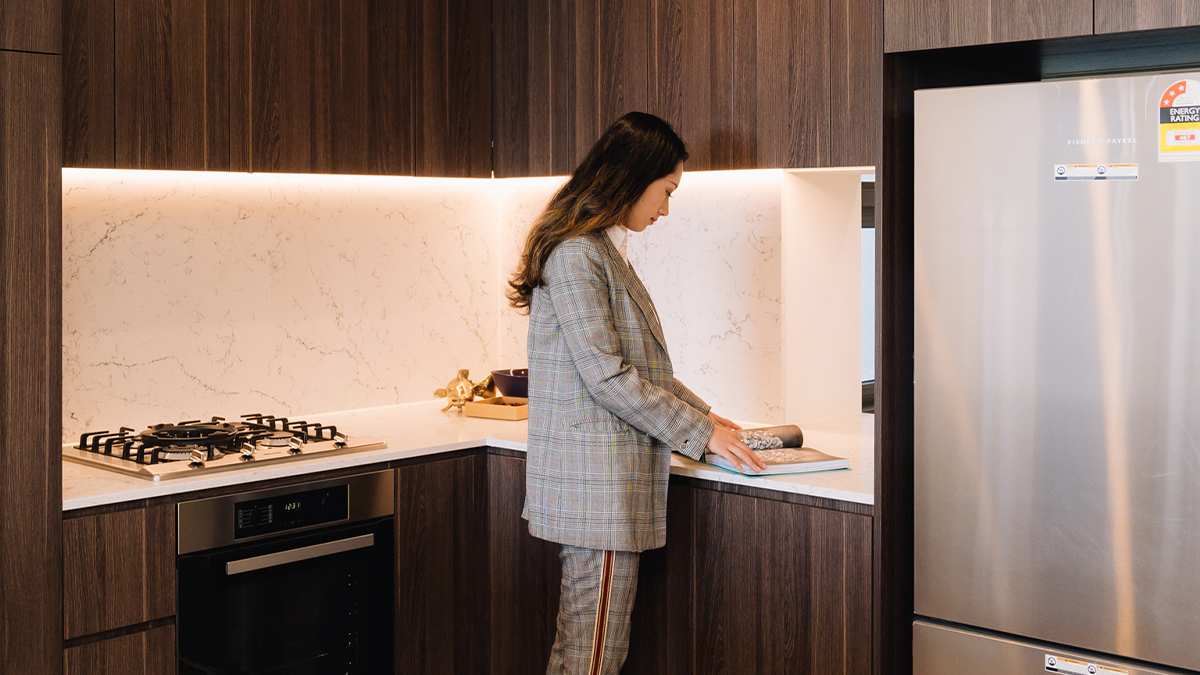 Settlement day is when the money to buy your apartment is transferred by your lender and the ownership of the apartment legally passes to you. This is all taken care of by your Solicitor/Conveyancer.
Once this is completed it's time to celebrate – you are officially a home owner! You will receive the keys to your apartment and can move in.
Welcome to your new home at the Lennox!
If you have any questions about buying your first property at the Lennox or would like to explore your apartment options, call us on 1800 998 519 or visit our Display Suite.
Information provided is generic in nature only. Please seek your own independent financial and legal advice.
BACK TO NEWS
Now Selling. Enquire Now
Sales and Dislay Centre
308 Church Street, Parramatta NSW 2150
Interested in learning more about The Lennox?
Secure your private appointment below, or contact 1800 998 519.
CONTACT US