REGISTER INTEREST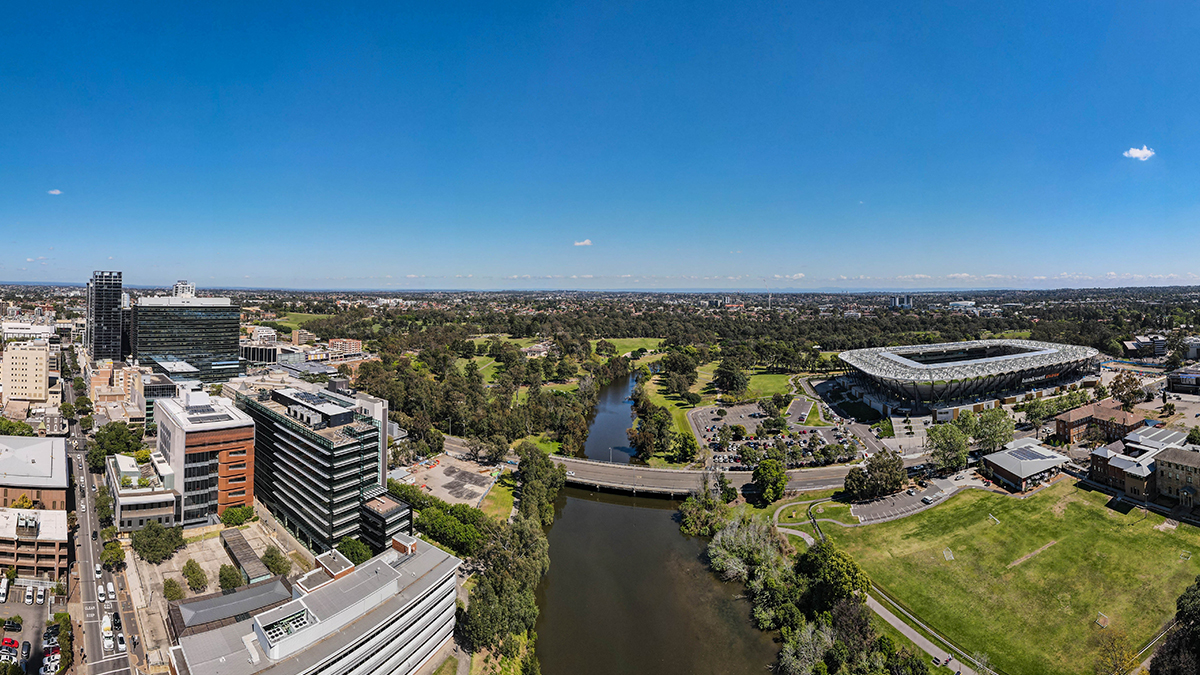 Did you know that at 152 metres, the Lennox is one of Parramatta's highest buildings? It's much more than just a soaring presence on the river skyline.

Here are some fun facts and interesting stats all about this super-sized tall tower:

It has robot parking:

Parking your car just got a whole lot easier – because at the Lennox, a robot does it for you. The state-of-the-art system by German makers Lödige is the next generation in automated parking. And Lennox residents will be the first in the Southern Hemisphere to try it out. Simply drive your car into one of the transfer pods, and a low-profile robotic shifter will take it to its designated space. When you're ready to leave, call for your car and it'll be back with you in around two-and-a-half minutes. It's one of the most novel and exciting ways to park your car that we've ever seen – and it definitely gives 'allocated residents parking' a whole new meaning. Want to see it in action? Of course you do - watch this news report here!

It's a big part of the city's riverside revival:

When you're building a world-class riverside precinct in Sydney's geographical and thriving heart it has to be special – and no expense has been spared in bringing the Lennox to life.

Over $300 million has gone into the development, which is set to regenerate the river, boost the business district and help make Parramatta a prosperous commercial hub.

At the base of the apartments you'll find a brand-new public boardwalk and a multi-level podium filled with retail, restaurants and cafes, connecting the river and its attractions to the nearby streets. It's all part of an unprecedented level of public and private investment into the city, which will transform the CBD over the next five years.

It has a historic name:

The Lennox might be the new kid on the block, but it already has a deep connection to Parramatta's history.
It takes its name from the neighbouring Lennox Bridge, a heritage-listed sandstone arch which spans the Parramatta River that was completed in 1839 by master stonemason David Lennox. Take a close look at the interiors of the Lennox and you'll see many nods to the local terrain, with touches of sandstone used throughout.
Its got first-class facilities:

There are resident facilities – and then there are Lennox-level resident facilities. Think a full-size, 25m lap pool, perfect for casual and serious swimmers. A fully-equipped gym for every exercise whim. A Zen Garden, offering a peaceful retreat high above the hustle and bustle. The Terrace, a rooftop style green space that's made for get-togethers. And The Lounge, flexible for larger events or intimate gatherings. The Lennox is a building that loves to entertain. Because when you live here, you'll want to show it off.
It's at the heart of everything:

When it comes to home buying it's all about location, location, location – and the Lennox has the top spot. It's on the edge of the CBD, right on the river at the junction of the Lennox Bridge and Church Street. You'll love living a local lifestyle with riverside strolls, parks, eat street, shopping, schools, river and train transport all an easy walk away.

Apartments are ready-styled:

When you're city living you want that 'wow' factor – and at the Lennox it's a standard inclusion. Because apartment colours and décor are the work of renowned international interior designer Lorena Gaxiola. She has carefully curated the apartment interior schemes that match the splendour of the building and its surroundings. Where every shade, fixture, tone and tile works together for seamless and beautiful styling, ready for the personal touches you want to add.

It's just like you've had your own interior design consultation. Take a look inside in our Q&A with Lorena here.

The top floor has Skyvillas:

When it comes to high-class, lavish living you can't top a penthouse – and the Lennox's four-bedroom Skyvillas are no exception. At an impressive 204 square-metres of completely customisable space with a breathtaking indoor-outdoor terrace, they're the largest apartments in the complex. And they really are exclusive – there's only two available.

It offers city living for everyone:

Did you know that the Lennox has 415 apartments to choose from? There are the open-plan studios and one-bedroom apartments –perfect for professionals and investors. Or a two or three-bedroom suite that's fantastic for families looking to elevate their home and their lifestyle. Prices start from $630,000.

You'll always get a room with a view:

Have you noticed the shape of the Lennox towers and the angles of its windows? It's cleverly designed so that no matter which type of apartment you have, spectacular views are maximised together with natural light.

It's already an award winner:

The Lennox is officially one of the best buildings in the world. It was named 'Best International Project' at the PCBC Gold Nugget Awards in San Francisco – the 'Academy Awards of the building industry' - beating projects not only in the US but across the globe. Judges were impressed by the quality interiors, the creativity of the building design and the positive impact it's going to have on the Parramatta community.

Want to know more?

Come and imagine your new riverside life at the Lennox display suite, where you can explore apartment options.

The suite at 308 Church Street is open Monday to Thursday 12-5pm and Saturday 10-4pm. Or call 1800 998 519 to make a private appointment.
BACK TO NEWS
Now Selling. Enquire Now
Sales and Dislay Centre
308 Church Street, Parramatta NSW 2150
Interested in learning more about The Lennox?
Secure your private appointment below, or contact 1800 998 519.
CONTACT US