REGISTER INTEREST
LENNOX INTERIORS LOWDOWN: Q&A WITH DESIGNER LORENA GAXIOLA
BACK TO NEWS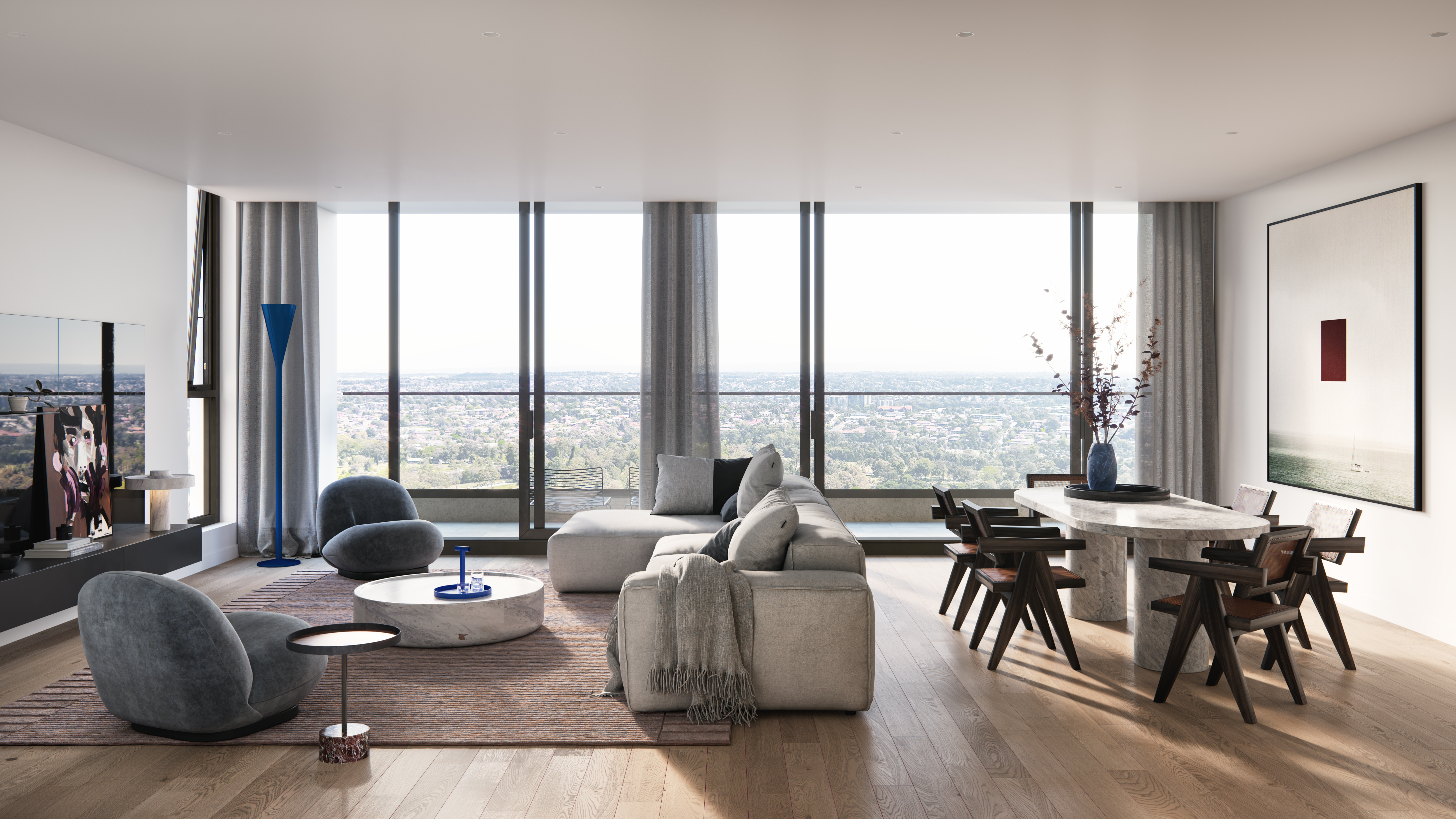 Living in a place where riverside and city vibe collide demands an apartment interior to match. And who better to create the relaxed and tranquil – yet modern and minimalist – luxury interiors befitting the grandeur of the Lennox than renowned international interior designer Lorena Gaxiola.
The concepts designed by Lorena's Sydney-based architecture and design studio take high-end interiors to the next level.
The perfect fusion of sophisticated style and blank-canvas creative opportunity, we caught up with Lorena for a guided run-through of the different apartment interior schemes, palette options and the inspiration behind the building's interiors.
The Lennox is the epitome of premium riverside living. How did you start off creating the interiors throughout the building?
The inspiration was drawn from the building design itself and from its surroundings. So you'll notice that both the colour and materials palette are very natural and organic. There are a lot of natural elements like sandstone and timbers mixed with metals such as bronze and iron throughout. It is a much softer palette than you would normally expect to find in these types of high-end tower developments. Usually, they tend to be cold and monochromatic. But this is where the Lennox stands out, it is very warm and earthy-toned, which in turn creates a luxurious and tactile interior.
Every area throughout the property displays the same palette for a cohesive flow, with a strong focus on an indoor/outdoor feel to capitalise on the location. Such as a green rooftop terrace, which creates a park life ambience in the sky and gives residents an inviting place to play and connect. The Zen garden which opens up to the gym. And the glass café hub over the boardwalk is a great place to soak in those views over coffee.
Tell us about the lobby – it's an incredible space to be in.
We wanted to give people a transformative experience, the sensation that you're stepping into something truly special, like an entrance to a world-class, opulent hotel. As the lobby is double-height it's a very commanding space and a signature entry point for the development, connecting to its surroundings.
As your first experience of the Lennox the interiors here set the tone for the rest of the building. It has an archaeological essence, going back to the building's earthy palette and indoor/outdoor feel, but it's also a very inspirational space. There's lots of glass and light, you can view the automated car parking system from here, you can see you're living amongst advanced, modern technology. It's exciting.
What sort of styling can buyers look forward to in their new apartments?
In essence we've aimed to recreate all the luxury styling and feel of a grand family residence, but in apartment living. It's an instantly comfortable and neutral backdrop, so buyers can bring their own taste, flavour and personality into the building. The Lennox is the future of city living in Parramatta – people want to be here, it's a riverside lifestyle – and we want owners to be proud of the location, its rich heritage and of their investment.
How are the kitchens and bathrooms styled in a typical apartment?
The apartments come in a choice of two interior schemes, Sleek or Classic. Both keep things very natural and tactile, but with different feature fixtures and fittings.
The Classic kitchen scheme is American-style walnut, combined with white surfaces, mirror splashback and black tapware. Compared to the Sleek kitchen, which has a heavier contrast of light and dark using Wenge, chrome and a stone splashback. Both are complemented by the same timber flooring and feature high-end appliances.
In the bathrooms, you'll find the same corresponding style as the kitchen, for example chrome tapware for the Sleek bathroom and black tapware for the Classic bathroom. But each has its own style of wall and floor tiles, with a grey mosaic feature tile in the Sleek scheme and Classic has a mini chevron pattern.
Whichever style you prefer, we've purposely used a subdued and sophisticated palette, so it's easy to add your own elements and make it your space.
How are the interiors different in the Suites and Skyvillas?
The Suites have premium variations, to reflect the prestige and style. Everything's upgraded across the board, for instance tapware, splashback, benchtops and flooring finishes.
Obviously, the Skyvillas offer the finest fixtures and fittings options, giving owners the chance to create their own bespoke, tailor-made living experience as you would expect when owning such an exclusive residence.
Why do you think people should choose the Lennox for Parramatta living?
As a development it's simply unsurpassed. Nothing like this has ever been built in Parramatta before. The level of detail and quality is extraordinary, as is the lifestyle it offers. It really takes luxury living to new heights in the city's skyline.
Is there anything that you'd like to highlight or that you are especially proud of?
Well, we're obviously very proud of the end result - of the aesthetics, quality finishes and the whole feel of the building. Particularly the fact that every level of buyer will enjoy the luxury experience that the Lennox will be renowned for. And the fact that the Lennox has already won a major international architecture prize of course, for Best International Residential Project at PCBC San Francisco's Gold Nugget Award which is a 50-year-old American award that celebrates the art, science and business of housing. It shows that people across the architecture world love The Lennox and know how special it is just as much as we do. We are very excited for the residents to own part of this historic win as this is the first Australian project to celebrate this honour.
For more information on apartment availability, visit the Lennox display suite at 308 Church Street, Parramatta or call 1800 998 519. Display suite is open Tuesday to Friday 2-5pm; Saturday 10-5pm and Sunday 2-5pm.
BACK TO NEWS
Now Selling. Enquire Now
Sales and Dislay Centre
308 Church Street, Parramatta NSW 2150
Opening time:
Monday – Thursday 12pm – 5pm
Saturday – 10am – 4pm
Friday & Sunday – By appointment only
Interested in learning more about The Lennox?
Secure your private appointment below, or contact 1800 998 519.
CONTACT US